Tom Eschen Hired at WRGB WE News Anchor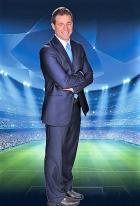 Weekend News Anchor/Reporter
Tom Eshcen is the Weekend News Anchor at WRGB iin Albany.  He came to Albany after working at LAX Lacrosse Network. He's excited to be coming back to News after working in the sports world for several years.  He says this is an opportunity to make a difference in viewers lives and tell their stories. 
Tom Eschen's love of sports came early. And probably earlier than you might think. As he's often told, on the night of his birth, his father won a basketball game in triple-overtime, while Darryl Strawberry hit a Home Run for the New York Mets (don't worry, Tom's a passionate Yankee fan now). His grandfather Wilbur was passionate about baseball, his grandfather Vincent, hockey. So yes, sports, and competition run deep through Tom's veins.
Tom is an Emmy nominated Anchor/Host and does Play-By-Play for For the Fans or "FTF" and LAX Sports Network. 
While sports may be his passion, Tom's REAL passion is to tell good people stories.  He is also a Fill-In Anchor and Reporter who shines a bright light  on his community, wherever he is and wherever he lands.
Growing up, the way kids watch Paw Patrol, he watched Sportscenter…the same version over and over again. Every season had a sport, baseball, basketball, golf and eventually football. That's the sport he took on as a 7th grader and couldn't give up until he had played four years of college football at Ithaca. He's taken those competitive juices to the streets, recently completing his first marathon in New York City, with more planned in the future.
With all that in mind, you might imagine his career highlights would be interviewing Derek Jeter or Bryce Harper, or covering the College Football Playoffs and NCAA Basketball Final Four. Maybe it's calling play by play for Masahiro Tanaka's first start in his return to Japan, or Luka Doncic's 17 assists in his return to his national team, not to mention calling multiple championship games throughout the world of basketball, baseball and soccer. While memorable, that's not it. It's the story of Pat Wiese, a college baseball player who, in the prime of his career, found out he had cancer. Or, the referee in Michigan whose story of a miraculous cancer recovery inspired a speaking tour, with a book to follow. Sure, standing in Jerry's World doing a live shot next to Derrick Henry was special, but so was the thank you he got from the interview he did with a black lacrosse player talking about their experience with racism and discrimination in today's society. So yes, it started with his great grandfather playing alongside Babe Ruth, but now it's about much more than that for Tom. 
He wants to use sports to inspire and make the world a better place, hoping to help as many people as possible along the way.