Susie Iliyan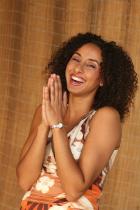 Anchor/Correspondent
Let me introduce you to our newest client, Susan Ebrahim Said Iliyan. Or, better known as Susie.  She is a host, producer, and MC across the Middle East, Canada, the United States, and Nigeria. Currently, she anchors 'Arise America' a live daily news program for the international network 'Arise News TV'.
She is of Palestinian descent and was born and raised in Saudi Arabia on the American compound of Aramco, which resembles a utopian American suburb, comprised of beautiful landscapes and man-made beaches.  Aramco existed in the midst of one of the most Islamic fundamentalist countries on the planet, although many of the strict Islamic rules in Saudi Arabia were somewhat suspended in the compound, allowing women to drive in the compound ONLY and to walk without wearing the traditional Islamic hijab (head cover) and abaya (full-length outer garment).


Because she and her family were stateless Palestinians, her parents sent her to Canada in the 8th grade, to continue her Western education and to apply for Canadian citizenship. While attending High school and College she became fluent in French, adding a third language to her Arabic and English language skills.
In 1998, during her college years, she discovered break-dancing and soon afterward, created the first all-female break-dance crew in Montreal, 'Ellementale 5, which evolved into her students and peers joining forces to create a 15 all-female break-dance crew 'Solid State'. They performed and competed throughout Canada and the US, to sold-out shows.  In 2003 she suffered a shoulder injury from break dancing and switched gears to Dubai, UAE where she was hired as a host for the first English speaking channel producing its content entirely in English, 'City 7 TV. ' She anchored a variety of programs including live daily talk shows, nightlife programs, cooking shows, fashion programs, and red-carpet events.  She was the original VJ for a music show on MTV Europe aired through Showtime Middle East.  She also hosted the red carpet for the Dubai International Film Festival on E! Entertainment;  and interviewed world-renowned celebrities including Morgan freeman and musicians DJ Tiesto, David Guetta, Incubus, and David Morales. 
Susie graced the covers of many magazines including Vanity Fair, OK magazine, and appeared on billboards and print campaigns for Dove Real Beauty. She's served as master of ceremony for the launch of the Rolex Tower, Mini Cooper Film Festival, Heineken, The Dubai Desert Rock Festival (60,000 in attendance), VIVA beauty awards, and The Emirates International Dubai Rugby 7s (one of the largest sporting events in the Middle East).  
After 4 years in Dubai as a rising celebrity, she took that momentum and robust showreel to a more competitive market, the US. While living in NYC, she was a regular on BET, Magic Johnson's 'Aspire' network, and 'Up TV' (formerly known as The Gospel Music Channel).  She had the opportunity to interview a myriad of celebrities, including actress Amy Landecker (Transparent), Boris Kodjoe (The Real Husbands), Katrina Bowdin (30 Rock), Robert Townsend (Director, Actor & Comedian), Kenya Moore (The Real Housewives of LA), Mark Indelicato (Ugly Betty), Nigel Barker (America's Next Top Model), Melissa Leo (The Fighter),  and historical bands such as Robert Plant (Led Zepplin), Duran Duran and 112.  She appeared in two episodes of Sesame Street, acted in a Def Jam Commercial, voiced many cartoons and radio Ad campaigns.  She even compered an event for Nelson Mandela's family during Mandela Day 2009 and was the first female voice to be used at the Walter Kaitz Foundation Annual Dinner.  
After an internship in the media department of the United Nations, she worked as a live news producer in the UN NYC for Sky News Arabia Abu Dhabi.  In 2015, she was recommended as an anchor to launch an international network funded by the ex-Vice President of Nigeria, Atiku Abubakar.  She moved to Nigeria and lived and worked between the northeast, Adamawa, and the capital, Abuja, anchoring live breakfast programs, as well as producing news reports.  After the one-year contract expired, she chose to remain in Abuja and spent the next few years committed to philanthropic work and charity projects benefiting the most vulnerable (women and children) in Nigeria. She documented the untold stories of Nigerian people while traveling by road throughout the country, covering the Calabar Carnival and the Annual Ososo Carnival in Edo State.
She is an engaging storyteller, witty, and a risk-taker with a wealth of on-camera and production experience. Her cultural sophistication and international experience, along with her cultural background as a Palestinian Canadian make her stand out wherever she goes.  She is culturally sensitive and possesses a unique amalgamation of perspectives allowing her to relate to people from various cultures across the globe.  She's ready to take all of her impressive repertoires to your newsroom.