Stephanie Johnson - HIRED - WHBF 4CBS in the Quad Cities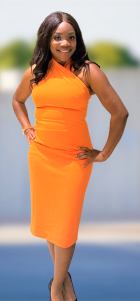 Reporter
Stephanie Johnson has been named the Monday through Friday Anchor at WHBF 4CBS in the Quad Cities.   She comes to the Quad Cities from sister station WHO in Des Moines,  where she was the lead reporter and primary fill-in Anchor.  She is in this business to tell stories and to make a difference, not just to be on TV.
Stephanie came to WHO from Laurel TV in Laurel, MD., and WBAL-AM in Baltimore, MD. Her passion for storytelling was born out of her mother's desire to do the same. She grew up in Prince Georges County, MD, near the nation's capital. It all started in high school when Stephanie noticed some inconsistencies within her school's curriculum, compared to other school curriculums in her county. She questioned it and believed that it was unfair that some students received a "better" education based on their zip code. She knew then that she wanted to be a part of the change, resulting in equality. Johnson believes reporters have the unique ability to put issues on a public stage that could potentially initiate that change.
After graduating with a B.A. degree in Broadcast Journalism from Hampton University, Stephanie became a Page at CBS News in New York, researching stories for the "Weekend Evening News" and managing guests for "CBS This Morning". She then became a Production Assistant at WJLA in Washington D.C. In 2015, she landed her first on-air position as a reporter at KGAN/KFXA in Cedar Rapids, Iowa. And then an MMJ, Assignment Desk Editor, and Web Producer at WPMT in York, PA. Stephanie lives by one motto: "Treat others the way you want to be treated". She has applied this motto to reporting and making contacts within her community.
Stephanie's goal is to report the facts and bring change to the underserved.
When Stephanie is not reporting, she likes taking road trips, working out and "Thrifting" to find the best buys for less.