Shannon Smith - Promoted to Morning Anchor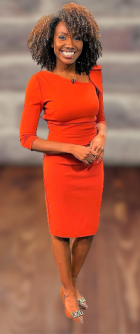 Anchor/Reporter
Shannon Smith is an award winning Morning Anchor at WOIO, Cleveland, OH.  Shannon is honored that she and her morning team won 1st Place at the Ohio AP Media Editors Awards for their presence at the Rock & Roll Hall of Fame.
She was promoted from the Weekend Anchor position in August of 2021 less than a year after joining WOIO. She came from WIVB in Buffalo, NY.  After reporting at WIVB, working hard on the streets as an MMJ, and fill-in anchor for months she was promoted to the weekend morning anchor position. Shannon says: "I stayed in trouble in school for talking so much, so I decided to start writing it all down instead."   It wasn't long before her teachers recognized her strong writing skills.  Shannon grew up on the Southside of Chicago, later graduating from the University of Illinois at Urbana-Champaign with a Bachelor of Science degree in Journalism. "In college, I wanted to work in entertainment/lifestyle news. I have a passion for human interest stories, and I wanted people to feel good about the stories I was sharing! There are so many women in entertainment news that I've admired. Giuliana Rancic, Catt Sadler, Nischelle Turner, just to name a few and as I researched their backgrounds, I realized they all came from hard, local news! They all worked as reporters in smaller markets. That solidified my thoughts about my journalism journey. I knew I needed the fundamentals of journalism - reporting, strong writing skills, the ability to adlib, research skills -- which are all developed and shaped through working in local news, covering hard news stories".    

Shannon started her media career during a 3-year summer high school internship with True Star Magazine (for teens).  
Her internship at WCIA TV in Champaign helped her land her first "on-air" position a few months later at WIFR, 23 News in Rockford, Illinois. Two years later, Shannon became a Multi-Media Journalist at KPTM, Fox 42 in Omaha, Nebraska, then MMJ at KMPH in Fresno, California.
Shannon's drive and passion come through in every story she does. She appreciates her innate ability to invoke emotion in the people she interviews as well as her viewers.  And she thanks her viewers for allowing her into their private space during what can be some tough times. In her spare time, Shannon enjoys singing gospel music with her sisters, watching crime stories, and hanging with her dog Sabastian.