Patsy Douglas HIRED - WTVM Birmingham, AL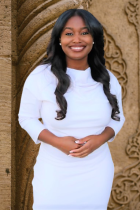 Reporter/Anchor
Patsy Douglas has been named as a reporter at  WVTM in Birmingham, AL.  She joins WTVM from News 15 in Lafayette, LA. Her media journey began as a little girl in Tuscaloosa, Alabama when her father would collect camcorders and record videos of her. This inspired her love for cameras and helped develop her personality in front of the lens. She soon became confident in public speaking as she held leadership positions throughout grade school and into her college years. Patsy is a graduate of Norfolk State University with a Bachelor of Science degree in Mass Communications / Broadcast News. Her passion for storytelling and connecting with people in the communities that she is surrounded by is unmatched. Once she stepped foot on NSU's campus, she knew that she had to make a difference in their mass communication department. She participated in various organizations, including Hampton Roads Black Media Professionals, and started the National Association of Black Journalists (NABJ) Chapter with her classmates on campus. Patsy interned at two of the top news stations in Norfolk, Virginia, 13 News Now and WAVY-TV 10. She has also worked and produced content with WRAL-TV in Raleigh, North Carolina, and The National Association of Black Journalists in Miami, Florida. 
Patsy was able to feel the full effect of the impact of her storytelling in just her first year on air. She interviewed two sanitation workers in St. Martin Parrish, who heard about an amber alert and found the little 10-year-old girl, alive and unharmed but still in the man's car. Her interview of their heroic act gained national attention. 
Patsy also told the story of a drug-addicted woman who was desperate to go into a treatment facility but couldn't financially afford to get clean. A viewer was so touched by Patsy's story that they came forward and donated a large sum of money to save this woman's life.
When she is not in front of the camera, Patsy is mentoring young girls who aspire to get into the media industry.
In her spare time, she enjoys photography and Graphic Design. Her hobbies have helped her build confidence in knowing that all things are possible.