Morgan Saunders - Hired at 19th & Park Productions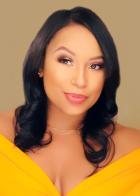 Head of Production 19th & Park Productions
Morgan Saunders is the Head of Production for 19th & Park Productions.  She was formerly Production Executive for Non-Fiction Originals with Netflix, bringing shows to life like Tidying Up with Marie Kondo, Love is Blind, and Floor is Lava. Morgan says, "Being able to help bring a show to life is so rewarding".  Growing up as an only child in Hampton VA, she learned the value of hard work. Morgan majored in Broadcast Journalism at Virginia Commonwealth University.  She interned at RVA mag working under the Creative Director. She anchored the VCU weekend news show, VCU Insights, and served on the VCU Media Commission. After college, Morgan moved to Washington, DC, and became a Production Assistant for Spike TV. That opportunity allowed her to work on shows for BET and the NFL Network. That earned her a shot with National Geographic Television, moving up from EA to Production Manager in a few years, working on shows like Inside Combat Rescue, Explorer, and Star Talk with Neil DeGrasse Tyson, to name a few. The global reach of Nat Geo allowed her to explore international productions and gain valuable experience with fixers and personnel. Four years later, Morgan joined Sirens Media in development, managing presentations for multiple networks like E!, A&E, Travel, and History. The President of the National Geographic Society asked Morgan to come back to lead the new Impact Media division at the Society. working on a diverse slate of materials for all platforms: YouTube, Snapchat, Instagram, and Facebook. She oversaw all grantee assets and any video content needs for donors, seminars, and all websites. Morgan helped build the department after the Fox acquisition in 2016. In 2017, an old colleague reached out to Morgan about running production on the west coast for Revolt TV. She jumped at the opportunity of managing a studio, ad sales shoots, live music festivals, and events. It was a new environment and a massive opportunity for her to cultivate her craft.
Then -- boom; Netflix called, giving her her first experience at working on shows that enter the zeitgeist. The budgets, diligence, safety, insurance, HR of it all provide her with a new challenge every day.
When Morgan is not working, which is rare, she loves to travel, read and catch up on the competitor's content. She enjoys trying new things and working with young people-- it keeps her young! Morgan is a firm believer in paying it forward, something that was always done for her. 
So, where does Morgan go from here?  She loves challenging her creative counterparts, better understanding the business, and continue making meaningful content.