Mitch McCoy Hired at KTVI St. Louis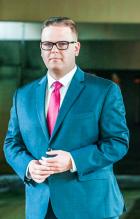 Investigative Reporter/Breaking News Anchor/
Mitch McCoy is an Investigative Reporter at KTVI in St. Louis, MO.  He came to St. Louis after being a Breaking News Anchor and Investigative Reporter at KARK in Little Rock, AR.
One of his investigations earned him a spot before state lawmakers after exposing how some judges have denied the public defender to the accused.
Mitch's work was also recognized by NBC's Dateline, probing the 2019 murder case of Arkansas State Senator Linda Collins. His in-depth work resulted in many twists and turns in the case, including the recusal of judges and prosecutors.
Eager to expose wrongdoing, Mitch can dissect a breaking news event as it unfolds or investigate corruption at the highest level using his experience in broadcast journalism as well as law enforcement. Mitch won an Emmy for his investigation into a Judge's denial of people deserviing of public defenders.
 Mitch jump-started his career in radio in 2012 before taking on the Executive Producer/Reporter/Weekend Anchor role at KQTV in St. Joseph, Missouri in 2014. About a year later, Mitch moved to KARK/KLRT in Little Rock as a General Assignment Reporter. He eventually became the "go-to" breaking news reporter assigned to cover the state's largest police department and other crime-related issues. Mitch provided coverage to other stations during hurricanes Ida and Michael, reported during wall-to-wall coverage on Arkansas' mass execution and field anchored from one of the state's worst mass shootings.
In 2019, Mitch stepped away from the newsroom and joined Arkansas' largest Sheriff's Office in Pulaski County where he served as a civilian Public Information Officer. As a member of the command staff, he would brief and consult high-ranking personnel prior to critical decisions. During civil unrest in the summer of 2020, Mitch worked in the state's command center to serve as the primary liaison between the sheriff and other law enforcement leaders. Mitch's law enforcement background strengthened his reporting skills.
After returning to KARK/KLRT in 2020 as the breaking news anchor, Mitch has provided real-time coverage across digital and TV platforms, using the program Open Broadcast Software (OBS). While anchoring and serving as the technical crew, Mitch can utilize technology to provide live and interactive information. During the peak of COVID, Mitch hosted a 30-minute special allowing viewers to ask questions instantly to some of the state's top doctors.
From live coverage during a breaking news event to working an investigation driven by deep curiosity, Mitch strives to find stories no one else can. As a journalist that provides content across multiple platforms, Mitch works to find memorable storytelling opportunities that will unleash change.