Shallima Maharaj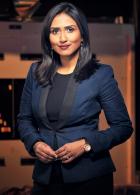 Anchor/Reporter
Shallima Maharaj is an anchor/reporter with Global News in Toronto. She thrives under pressure and pivots rapidly and skillfully to meet the demands of breaking news. Born in Trinidad, Shallima was raised in Toronto and attended Ryerson University's School of Journalism. She subscribes to the personal belief that every day represents an opportunity.  She has spent the past year in the field covering the latest pandemic developments, equitable vaccine distribution, urgent calls for paid sick leave, and hospitals that have been pushed to the brink by soaring COVID-19 cases.
Her passion for storytelling is immense, and she was part of the RTDNA award-winning team that provided continuous coverage of the Fort McMurray wildfire, as well as the worst mass murder in Edmonton's history.
At the anchor desk, her style is conversational, authentic, and authoritative. Shallima has reported and anchored across Canada. This includes hosting a top-rated three-hour morning newscast in Regina, anchoring hour-long evening newscasts, and anchoring for digital platforms.
Her first opportunity to tell stories on a full-time basis came in the form of a video journalist position with CTV News in Prince Albert, Saskatchewan. She availed herself of every opportunity to learn and grow, researching, pitching ideas, shooting, editing, scripting stories, and immersing herself in the community. From there, Shallima went on to pursue opportunities in Regina, Saskatoon, and Edmonton, before returning home to Toronto.
She is an outdoor reveler, a lover of the culinary arts, relishes good strong coffee, and the exhilaration of traveling to places she has never been before.