Lee Hawkins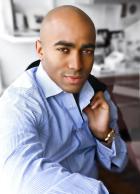 Reporter/Host/Correspondent
Lee Hawkins is a true multi-platform, entrepreneurial journalist who is challenging and changing the paradigm of multimedia news and entertainment. As well as appearing weekly on television to promote his interviews, his online content attracts millions on YouTube and other mainstream Internet platforms, boosted significantly by the fact that his videos are picked up by droves of other media outlets and influential blogs, which regularly embed his videos on their sites. He writes his own scripts and produces and supervises the video editing of all of his content, as well executing all of the SEO and social media strategy.
A staff reporter for the Wall Street Journal since 2003, he started his career in the Detroit bureau of WSJ covering General Motors and the challenges facing the Big 3 automakers, until he was relocated to NYC in 2007 to represent the WSJ in the TV and emerging digital world. Two years ago, he was promoted to News Editor and On-Camera reporter. He created a niche around what he calls "the business of celebrity", booking and conducting in-depth interviews with the top superstars in the sports and entertainment worlds, and other famous newsmakers including Robert DeNiro, Clive Davis, Floyd Mayweather, Lady Gaga, Hugh Hefner, Curtis "50 Cent" Jackson, Danica Patrick, Betty White, UFC execs Dana White and Lorenzo Fertitta, boxers Manny Pacquiao and Mike Tyson, the Kardashian family, young NFL stars Russell Wilson and Colin Kaepernick, and Princess Ameerah Al-Taweel of Saudi Arabia, among many others. He also writes exclusive print stories and blog posts to accompany his interviews.
Before joining the WSJ, he worked as a business reporter for the Milwaukee Journal-Sentinel and the Wisconsin State Journal. He has covered a wide range of publicly traded companies and industries during his career, including electric and telecommunications utilities, manufacturing, technology and minority-owned businesses.
Lee holds a Bachelor's degree in political science from the University of Wisconsin-Madison, where he was editorial page editor of the Badger Herald student newspaper. He is a member of the UW-Madison board of visitors for the School of Journalism and Mass Communications and the National Association of Black Journalists.