Kelly Wright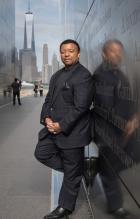 Host/Correspondent
Kelly Wright is an EMMY award-winning Anchor/Reporter.  But that is just the tip of the iceberg. Throughout his career, Kelly has reported on top stories around the world. He has interviewed heads of state including Presidents Donald Trump and Barack Obama (while serving as US Senator), First Lady Laura Bush, and leaders of foreign countries. He is passionate about telling stories that inform, motivate, and inspire people.
 Kelly Wright is a Senior Capitol Hill Correspondent with NTD News in Washington. Kelly recently launched "America's Hope," which searches out the stories from across different backgrounds, to find the people who have turned tragedy into triumph and giving hope to those in despair. America is divided like never before. Where can people go to find hope? To Kelly's show on YouTube (YouTube hyperlink above) America's Hope with Kelly Wright.
Previously, he was the anchor for The World Tonight, on now defunct Black News Channel (BNC).  Kelly also served as the host and executive producer of The Kelly Wright Show." 
Before BNC, Kelly hosted Taking Care of Business on Trinity Broadcasting Network (TBN). He spent 15 years as an Anchor/Reporter at Fox News Channel, anchoring America's News Headquarters and co- hosting Fox and Friends Weekend.
Most recently, he has anchored and reported on special coverage of the murders of George Floyd, Breonna Taylor, Ahmaud Arbery, the January 6th Insurrection, and more. In 2004 Kelly spent nearly three months reporting on the developments in Iraq. He was among the first reporters to cover the Abu Ghraib prison scandal and the subsequent court-martial cases held in Baghdad. Kelly also spent time embedded with U.S. and British troops, reporting on the military's humanitarian efforts in Baghdad, Basrah, and Mosul. He also provided coverage on U.S. forces training Iraqi security forces. Additionally, Kelly reported on the historic U.S. handover of sovereignty to Iraq.
Before joining Fox News Channel, Kelly worked as an anchor/reporter at WAVY-TV/WVBT-TV in Norfolk, VA, co-anchoring the Fox affiliate's first primetime newscast (produced by WAVY). During his tenure there, he covered a wide range of stories, including an historical event in Benin, West Africa, where African presidents Mathieu Kérékou of Benin, Jerry Rawlings of Ghana, and representatives from the United States, England, France, and the Dominican Republic apologized for their role in slavery.
Kelly was also a weekend news anchor and reporter for WRAL-TV in Raleigh, N.C. He secured numerous rare interviews, including a 1996 exclusive interview with O. J. Simpson following the criminal court trial.
As a general assignment reporter for WWOR-TV in New York, Kelly reported on numerous high-profile newsmakers and events for the station, including John Gotti, Amy Fisher, the Howard Beach, and Bensonhurst murder trials, and the Central Park jogger rape case.
Kelly also worked as a national reporter for The 700 Club and CBN News (Christian Broadcasting Network). He reported on the Space Shuttle Challenger disaster.
Kelly began his journalism career while serving in the United States Army. He has received numerous awards for his reporting, including two Emmys for developing, reporting, and co-producing a documentary and news series on the transatlantic slave trade.
Kelly is a graduate of Oral Roberts University (ORU). He received an Honorary Doctorate Degree from Northwest University.
He is also a National Recording Artist with four albums, Speaker, Author, and Ordained Minister. He has graced famous stages in New York City, such as the Apollo Theater, The Cotton Club, The Metropolitan Room,  and Lincoln Center. He's performed on programs with artists like Bobby Caldwell, Marvin Sapp, Shirley Caesar, Cissy Houston, the late James Brown, Jonathan Butler and many more.
Kelly creates a unique fusion of his journalism career with his music, pouring all his life's experiences into his passion for music, recording songs that are entertaining, encouraging, and uplifting.