Kathy Le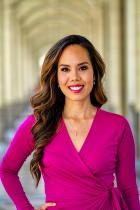 Anchor/Reporter/Producer
Kathy Le is an award-winning journalist with 15 years of experience.  Her dedication to the profession and her relentless effort to dig for stories is unparalleled.  She strives for excellence in her craft and believes her role, both as an anchor and reporter, comes with a high level of responsibility.  It's a challenge she wecomes as she pursues her mission to make a difference through her storytelling.
Kathy is currently an anchor and reporter at CTV in Calgary, Canada. She speaks English, French, Vietnamese and Spanish. She is a graduate of the University of Alberta with a double major in chemistry and biology. Kathy admits that Broadcast Journalism was not her family's first choice for her as a child of immigrants, coming to this country from Viet Nam. Traditional careers like doctor, lawyer, or engineer were all impressive. But Kathy knew she was a natural-born journalist. Her love of storytelling began in elementary school, writing books on the weekends after finishing homework and being center stage at talent and Christmas concerts singing, dancing, or reciting poems. As she grew older and pursued other passions, she began telling stories on the ice through meticulously choreographed figure skating programs, using her eyes, facial expressions, and body language to convey her feelings. Off the ice, those feelings were brought to life through the keys of her piano, performing a 12-page Claude Debussy piece successfully and with emotion that does not just come from the mind, but from the heart.
She calls it a fire in her gut that would gnaw at her insides. It is the same fire that propelled Kathy to do deep-dive projects, such as documentaries, peeling back the layers of a story and educating the public in more depth about an important issue. Thinning newsrooms in the Canadian TV industry make it difficult to pursue these projects, but the hurdles have not deterred her. In her words, "the intangible and unexpected lessons I've learned from the individuals who have trusted me with their stories have deepened my understanding of who I am and why I am a journalist."  "I learned grace in the face of devastation from a mother who lost her child in a day home, I understood bravery from the refugees who escaped war, and I found a new meaning to the word resilience from a drug addict who was on his journey to recovery. These lessons give more meaning to my stories and help bring honor to the people who gave me their time".
Kathy was recently shortlisted for a Harvard Fellowship, which has a long-standing reputation for mentoring and building the greatest thinkers and leaders of the world by challenging and encouraging students to explore and experiment outside the confines of what is usual.
Kathy was part of the breaking news team covering the double-murder of a mother and daughter and was awarded an RTDNA for her live reporting. She was also awarded the Spirit of NAIT alumni award from her alma mater for achieving excellence in journalism and has been nominated five times for an RTDNA for other projects, including three documentaries. In her more than a decade of experience, Kathy has covered multiple investigative stories, municipal and provincial elections, court and crime stories, human interest stories, and entertainment. She had the opportunity to go live from the red carpet for the 2016 Junos awards, the Canadian equivalent to the American Grammy Awards.
Her latest investigative documentary "Broken System: EMS Crisis in Alberta" just won an Edward R. Murrow award! It was also been nominated for an RTDNA for Enterprise Journalism and the national Canadian Journalism Foundation Jackman Award for Excellence in Journalism.  To date she has won two RTNDA awards and the following nominations:
Her RTDNA nominations include:
A Fresh Start Documentary - Syrian refugees settling in Calgary a year after arriving
Poison Pills: Calgary's Fentanyl Crisis - a look into how the fentanyl crisis has gripped Calgary, families, and frontline workers
Who's Watching the Kids Documentary - an investigation into private and licensed childcare
Addictions Canada - three-part series investigating a corrupt private addiction rehab centre in Canada
Diversity feature about Syrian refugees resettling in rural Alberta
"Broken System: EMS Crisis in Alberta" was nominated by the National Canadian Journalism Foundation Jackman Award for Excellence in Journalism as well.
Kathy's compelling work on documentaries about the Pandemic and racism and discrimination felt by Chinese Canadians is a "must-see". When dealing with covid-19 stories, her double major degree in Chemistry and Biology has helped her easily navigate through the science of the virus to be able to present stories in a way the average person can understand.
The "fire in my gut" has been steadfast in guiding me to be a better person and find my purpose in the world. I believe when one strives to do good, the ripples of that desire are unstoppable and limitless. Whether it be in my personal life or through my work, I am compelled with passion and unbounded energy to turn the "fire in my gut" and igniting it within others to be their catalyst for change.