Kari Osep HIRED AT WVTM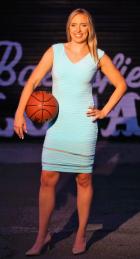 Sports Anchor/Reporter
Kari has just been hired at WVTM in Birmingham, AL as the Sports Anchor/Reporter.  Kari was the Sports Director at KERO in Bakersfield, CA before coming to Alabama.  She'll be covering the SEC and Alabama football for Hearst's station WVTM.
In life, many of us are chasing our passions in hopes of them becoming our purpose. Kari Osep would tell you that she's grateful that her passions of sports and storytelling have merged into just that: a purpose.
From as young as she can remember sports have been a way of life. Growing up an avid sports fan and athlete, finding love in just about every sport she witnessed, Kari turned her love of the game into a sports broadcasting career. Lucky for her, visual storytelling was another calling.
Now she gets to share her passion for sports with diverse communities while highlighting athletes, teams, coaches and all the ways sport has made those communities special. From covering the Arizona Diamondbacks and Super Bowl XLIX in college to reporting on everything Penn State in her first market at WJAC in State College along with many high schools and minor league teams to her current role as sports director in Bakersfield at 23ABC, Kari has the unique ability to connect with people by sharing stories through creative shooting and editing, and strong thought-provoking writing. All while navigating her role as a leader, evolving into a strong manager of a  sports department, and developing skills in self-sufficiency beginning with her work in a bureau to her current position in a one-person sports department.
More than six years of experience in the industry has led to a Regional Edward R. Murrow award and two Emmy nominations. But more importantly to Kari, she has garnered valuable relationships, stories, and lessons she's taken with her all while serving her purpose of uniting people through the world of sports.