Justin Moore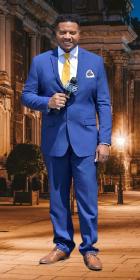 Reporter/Producer
Justin Moore is an Award Winning Reporter at WNCN in Raleigh.  He is the Bureau Chief in the station's Fayetteville office.  He came to WNCN from WPMI in Mobile, Alabama.  He may carry a mic and a camera, but he believes the voice comes from the people.
Justin's career began over 12 years ago in his hometown outside Greenville, Mississippi as an intern WABG-TV. He was soon hired as a multimedia journalist and chyron operator, all while attending The Jackson State University and University of Southern Mississippi.
Justin has worked in several newsrooms from the deep south to the northeast. He has worn many newsroom hats, producer, reporter, teleprompter operator, fill-in anchor, sports photographer, segment booker, editor, and now reporter.  Justin's journalistic passion began in the 8th grade while watching the towers fall during 9/11. After school and marching band practice, he would rush home to sit in front of the television to watch network wall-to-wall coverage. By high school, he felt lead to call the local newspaper and shadow a reporter.
Justin has won a Mississippi Associated Press Award for shining the light on families living in Mississippi without running water. He was also recognized by the parent company of his former station for holding the housing authority in Buffalo, New York accountable for letting the elderly live in the dead of winter without heat or hot water. Justin says, "These kinds of compelling stories stir my drive and determination."
Even after the passing of his mother during the COVID-19 pandemic, Justin continues to pour his all in the craft. He is determined to win in this industry, to give his mom something to smile about in heaven.
Justin worked his way up the ladder to become a reporter and continues to work hard today. He enjoys sharing his knowledge and experience to the younger journalists in his shop. While they learn so much from him, he finds himself learning so much from them as well.
When he's not on the streets, Justin loves cooking, trying out new restaurants, traveling and going to sporting events.