Jordan Brown HIRED at WGHP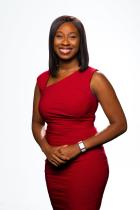 Anchor/Reporter
Jordan Brown is named the Morning Anchor at WGHP in Greensboro after being hired less than 6 months as a reporter. Before WGHP, Jordan was a Reporter/Fill-in anchor at WATE 6 News in Knoxville, Tennessee.  She loved covering stories that tug at the heartstrings of the viewer.  Like, helping a 17-year-old boy with autism, find a job, twins who both had babies on their birthday, 30 minutes apart at the same hospital. And another 7-year-old boy whose dreams of being an Olympian, got recognized on the TODAY show.
Before moving to Knoxville, Jordan spent time in upstate New York as the morning anchor/reporter at WETM 18 News in Elmira. While there, Jordan got valuable experience as an MMJ and anchor as well as producing shows and entire specials.
Being a reporter was Jordan's destiny before she even knew it. Growing up in metro Detroit, she was always interested in interviewing and storytelling. She was an avid reader and writer in grade school. Winning awards for her poetry and storytelling and competing in reading and poetry contests. She spent her summers filling notebooks with stories, poems, scripts, and song lyrics. Jordan was always ready to conduct an interview. It was her grandparents who first fostered her creativity by buying Jordan her first video recorder. From there, she filmed everything. Writing and creating short films, shooting makeshift music videos, and conducting interviews with family members.
Jordan attended Eastern Michigan University where she majored in Electronic Media. There, she briefly hosted an MOS-style trivia segment for the school's newscast called E-Walking.
A few of her inspirations are Oprah Winfrey, Shaun Robinson, Morgan Radford, and Boyd Huppert. Like them, she wanted to be able to tell stories and be a trusted source in the communities she covers.
Jordan says "My favorite part about this business is telling the stories of the community. I love being able to uplift the voices of the people who feel forgotten or ignored. I love being able to shed light on issues that others may not know about. If I can help just one person with my storytelling, then I've done my job."
In her spare time, Jordan loves to read, try new restaurants, watch documentaries, and shop for home decor. Jordan is also a huge Beyonce fan. 80% of her music library is Beyonce. She's been to several of her live shows and met her once when she was 12. Her dream would be to do a one-on-one interview with Queen Bey one day. Although Mrs. Carter isn't giving interviews much these days, Jordan has hope that she has a few more she's willing to give before she retires, and hopefully, Jordan will be one of those she talks to.