Jordan Brown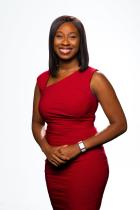 Anchor/Reporter
Jordan Brown is the Morning Anchor at WGHP Fox 8 in Greensboro after being hired less than 6 months as a reporter. In addition to being a morning anchor on the highest rated morning show in the Piedmont Triad, she heads a franchise called "In Black and White" that focuses on race, culture and diversity. "In Black and White" stories have covered a number of important and sometimes difficult topics like health disparities in communities of color, disciplinary inequities in Greensboro public schools, and two women -- one white and one Black --who lived through the integration of their elementary school and maintained a close friendship 50 years later. This series recently received a second-place award in the social reform category at the 2023 RTDNAC awards.
Before WGHP, Jordan was a Reporter/Fill-in anchor at WATE 6 News in Knoxville, Tennessee. There, she covered a range of stories from tense school board meetings at the height of the COVID-19 pandemic, rallies and protests during the social justice movement of 2020, as well as stories that tugged at the heartstrings of the viewer. Like, helping a 17-year-old boy with autism find a job, twins who both had babies on their birthday, 30 minutes apart at the same hospital, and another 7-year-old boy whose dreams of being an Olympian, got recognized on the TODAY show.
Before moving to Knoxville, Jordan spent time in upstate New York as the morning anchor/reporter at WETM 18 News in Elmira. While there, Jordan got valuable experience as an MMJ and anchor as well as producing shows and entire specials.
Being a reporter was Jordan's destiny before she even knew it. Growing up in metro Detroit, she was always interested in interviewing and storytelling. She was an avid reader and writer in grade school, competing in writing and poetry contests. She spent her summers filling notebooks with short stories, poems, and scripts. It was her grandparents who first fostered her creativity by buying Jordan her first video recorder. From there, she filmed everything. Writing and creating short films, shooting makeshift music videos, and conducting interviews with family members.
Jordan attended Eastern Michigan University where she majored in Electronic Media. There, she briefly hosted an MOS-style trivia segment for the school's newscast called E-Walking.
A few of her inspirations are Oprah Winfrey, Shaun Robinson, Phil Williams, and Boyd Huppert. Like them, she wanted to be able to tell stories and be a trusted source in the communities she covers.
Jordan says "My favorite part about this business is inspiring, informing, advocating, and holding those in power accountable. If I can help just one person with my storytelling, then I've done my job."
In her spare time, you can usually find Jordan with her nose buried in a book or watching documentaries. Sometimes the journalist tendencies don't go away, even outside of work.