John Fenoglio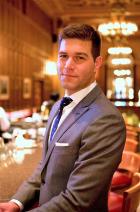 Reporter/Anchor/Host
 If you ever want to have a long conversation with John, just ask him how he discovered his broadcast career. He'll tell you it was while taking shelter in a giant shipping crate in the middle of the Black Rock Desert during a howling dust storm.

That was fifteen years ago. John helped launch and co-produce news operations for BMIR 94.5 FM, the official radio station for the event known as Burning Man. Broadcasting to over 50,000 listeners in the unrelenting heat and dust, he covered a multitude of human-interest stories and interviewed some of the world's premier artists, musicians, and 'big art' project managers. He has been hooked on journalism ever since.

Currently, John is a breaking news and political reporter for KTLA. He joined the station at the beginning of 2016 to cover the controversial and groundbreaking Presidential Election cycle. He went on to cover the 2020 Election and has reported from the campaign trail, at rallies, and he has conducted personal interviews with Hillary Clinton, Ted Cruz, Pete Buttigieg, Bernie Sanders, and Governor Gavin Newsom just to name a few.

He's also spent considerable time reporting on the front lines of California's devastating wildfires. He has embedded with fire crews to deliver up-close (maybe too close) coverage of firefighters' battle against Mother Nature, and their race to save lives and property. Take a look at his reports from the field and tell me the hair on your neck doesn't stand up!  And if you're wondering why he looks so at ease on emergency scenes it's because he used to serve as an EMT, working for a local rescue squad.

Shortly after the pandemic lockdowns hit, John, like so many reporters, had to adapt fast. He bought a "softbox" lighting kit, borrowed some audio equipment, and began producing and broadcasting segments from home for the next several months. He tracked the daily Covid numbers and interviewed doctors, patients, and public health experts via Zoom as the case rates spiraled out of control in California.

When the murder of George Floyd happened a few months later, John was jolted out of lockdown. Riots broke out across L.A. Demonstrators marched for weeks. Still working remotely, and without a photographer, he delivered live reports and interviews using his iPhone and the Dejero app.

That same year, as part of KTLA's 10 P.M. news team, John's coverage of the tumultuous presidential transition helped the station win an Emmy for best evening newscast.


In 2018, he was nominated by The L.A. Press Club for best human interest feature for his story "Fishing for Change," which captured the transformative work of the California Ghetto Carping Club and their efforts to keep kids from joining gangs.

Prior to moving to LA, John was a freelance reporter at KTRK in Houston, his hometown. He hit the ground running, reporting stories of heroism and tragedy during the Spring of 2015 when Tropical Storm Bill, tornados, and flooding pummeled southeast Texas. He also covered cases of human smuggling from Mexico.

Before coming back to Houston, he was the weekend anchor and a general assignment reporter for KRON in San Francisco.  He started the day Asiana Flight 214 crashed at SFO. He jumped in and did an incredible job on the desk, anchoring for ten straight hours.

Early on in his career, John worked for France 24 TV as their go-to reporter for the West
Coast.  He covered everything from politics and lifestyle to technology and the environment for the network. Shortly thereafter, his work garnered the attention of CBS Newspath, and he was hired to freelance for the L.A. Bureau. There, he covered national immigration reform rallies, California's punishing drought, and entertainment news.

When John isn't working, you'll find him exploring new hiking trails, or swimming in the Pacific.  He loves the great outdoors with a passion and relishes any opportunity to get out of the city with his
partner and their dog, Bear.

What I love about John is just how personable he is. Whether he's conducting interviews, or just chatting over coffee, he takes a genuine interest in other people and their stories. He has a huge
heart.

There is no question he has the look for television.  But his voice is just fantastic. Check out his work and you'll see that he was born to be a broadcaster!