Jhas Williams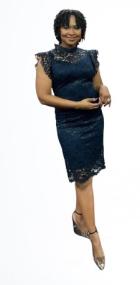 Traffic Anchor/Reporter
Jhas Williams is the Traffic Anchor at WFTS in Tampa, FL.  She started in August of 2022.  She got her start in news at WIVB as a reporter and traffice anchor.    Within a year's time, she was promoted to Morning News Anchor/Reporter along with her Traffic duties.  Her management couldn't deny her magnetism and viewer connection to bring more to the mornings than traffic. Jhas has brought her skills to the Tampa Newsroom now as well. 
Jhas was born in South Jersey, just outside Philadelphia.  She was been obsessed with telling stories.  When we first met Jhas, we knew she had that spark.  But that spark and her talent far surpassed even our expectations. 
Jhas attended Rowan University in Glassboro, NJ, majoring in Radio, TV, and Film and minoring in Journalism. She also attended the American Academy of Dramatic Arts in Los Angeles, CA. focusing on script analysis and vocal production. Jhas began her career at her college radio station with her own show. A manager was passing through town and heard her buttery voice on the radio and gave her, her big break at 93.7 WSTW in Wilmington, Delaware. Jhas later earned her own Morning Show as Co-Host of Eagle 97.7 "Petch and Jhas" in Milford, DE. She then moved up and was the Morning Show Radio Host of "The Jen and Jhas Show" 92.9 The Wave in Virginia Beach, VA. This time in radio made her a perfect candidate for becoming a Traffic Reporter being able to pivot easily with breaking traffic accidents and weather-related road conditions. Finally, viewers were able to see her quick wit and that amazing smile that comes through in her voice.
While radio gave her the journalistic background she needed, it lacked the lengthy platform she desired to bear her soul. Jhas' freelance work exudes the heart of the people. From pop culture to racial annihilation to mental illness, she gives it a voice with no limits on how long it takes to express it. Her passion for justice and equality can be found on her website https://thecharacterlimit.com/blog. She has also been commissioned as the official web blogger for https://www.therapyincolor.org/. 
Politics and political reporting are her strong suits. While she developed her business management side from her mother, her political vision came from her father, who is not only a pastor but the first African American Democrat to be elected as state representative for Pennsylvania's 74th district. She keeps her skills sharp by writing for ESSENCE Magazine's online politics segment and for RANTT Media. Some of her articles have also been published on the National Association of Black Journalist's official website.
Jhas also became an advocate for mental health after struggling with my own mental health issues. She has also been active in Big Brothers, Big Sisters for years. She has spoken for Mental Wellness organizations such as "This Is My Brave", given a speech in their Philadelphia Show and as a result, was featured in the Philadelphia Inquirer. Her dream is to be on a nationally syndicated television show and a best-selling author and have her own successful podcast. By the way, you can also find her doing philanthropic work pertaining to music, dogs, and mental health. You will also find her cheering quite loudly for the Eagles, Sixers, Flyers, and the Phillies. Now that's the heart of a born and raised Jersey Girl.
Jhas has a passion for telling stories and a strong interest in community elevation, allowing the voices of people to transcend through her work. When Jhas is not at work you can find her reading and writing, at the gym, or hanging with her Jack Russel Terrier!