Jessi Mitchell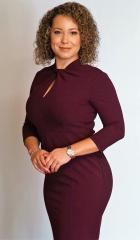 Bi-Lingual Correspondent
Jessie is currently a Community Reporter for WCBS in New York.  To say that Jessi Mitchell was born to tell stories is an understatement. The daughter of a CBS News photojournalist-turned-professor and a technical director on the Oprah Winfrey Show, Jessi spent her childhood on sets, in control rooms, and in college classrooms, learning how to edit and conduct interviews before she reached double digits. Jessi's parents saw a bright future for her, and always encouraged her to reach for the stars.
Jessi was born in Los Angeles and grew up in Atlanta. She attended Hampton University on a full academic scholarship, where she became captain of the golf team and graduated Magna Cum Laude.  She majored in Broadcast Journalism with a Minor in Spanish.  She graduated with a 3.75 GPA and is fluent in Spanish.
Jessi joined CBS News as a digital journalist in 2019 after spending seven years as a multimedia journalist and anchor in Oklahoma City, Colorado Springs, and Columbus, Ga. Her time in local news allowed her to develop a passion for helping others through storytelling, highlighting issues affecting minority communities, homeless populations, and domestic violence survivors. Her empathetic approach and diverse personal background invite trust and candor in conversations. Jessi's determination to be a network correspondent shone through when she propelled herself from behind the camera to reporting breaking news stories within six months of arriving at CBS. She now reports regularly on major breaking news as well as enterprise features from her home base of Atlanta. 
Her aspirations are high, but Jessi has demonstrated poise and purpose in every move she makes. Considered a "rising star" at the network, Jessi aims to become a New York-based correspondent with a far-reaching impact. 
Jessi is an active member  Soka Gakkai International-USA or  SGI-USA. It is the most diverse Buddhist community in the United States with more than 500 chapters and some 100 centers throughout the country. She serves as a young women's leader promoting peace and human revolution in today's society through the practice of chanting, 'Nam Myoho Renge Kyo'. She is also a member of NABJ, a contributor to the Women In Golf Foundation and the Atlanta chapter of the Hampton University Alumni Association.
She is an avid sneaker collector and golfer and loves taking long walks with her dog Scotty.