Jacob Seus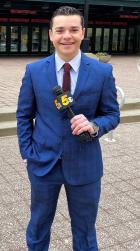 Sports Director
Jacob Seus is the Sports Director KFSM Fox 5 in Fayetteville, Arkansas.  He doesn't just love the game, he has passion and compassion for those on the court and on the field. Its as if they are both living it at the same time. Jacob doesn't just tell sports stories, he tells "People" stories. He calls himself one of the lucky ones.  Jacob always knew sports was his destiny since birth. He credits his father for taking him to as many games as he could while growing up. Something he says he can never repay.  Jacob recounts the sites, the smells, the ice cream as a little boy in the arms of his father at Shea Stadium or Nassau Coliseum in New York. He was even in the stands with his dad for the Mets first World Series win since 1986. So when his dreams of becoming one of the players became just a memory, Jacob did the next best thing, and became a sportscaster.
Jacob studied Journalism at the University of Missouri, covering an SEC program for the student run tv station and later KOMU, the NBC affiliate in town. It was a sports reporters dream. He then landed his first job at WBNG in Binghamton.  HIs hard work there is what landed him the Sports Director opportunity at KFSM in Fayetteville, AR. covering the football team in countless bowl games or the basketball team in back-to-back runs to the Elite 8. Jacob was doing something that mattered to the viewers. Outside of the games he gets the honor of a lifetime, the chance to tell the stories of some unbelievable athletes.
Its an  adrenaline rush for Jacob, from a live shot or putting together the puzzle pieces of an amazing story, It all still excites him after five years in the business. In his words "You never have the same day twice. I wake up every day excited to go to work and see what will happen. That's something I'd hope everybody gets to experience in their life".