Haley Hernandez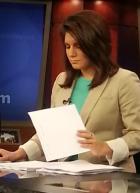 Anchor/Reporter/Health Correspondent
Haley Hernandez has been named the Health Correspondent for KPRC in Houston, TX. She is the only health correspondent in the city of Houston coving one of the country's largest medical communities. She will be delivering reports on some of the nation's cutting edge medical breakthroughs as well as the vast technological and human interest stories on cancer research, pediatric care, and general health concerns involving the community. When reporting, she shoots, writes, and edits her own stories.
Haley was born in Houston, TX and attended the University of Oklahoma. She has a bachelor of arts degree in Journalism and Mass Communication with a minor in Spanish.
Haley brings to the low country years of experience in broadcasting national news in New York City. She's worked with shows at two main networks including CBS's 60 Minutes, where she received Emmy recognition for Saving Flight 1549, NBC Nightly News with Brian Williams and Weekend Nightly News with Lester Holt. Haley is also an alumna of the NBC Page Program where she worked with multiple shows at NBC News.   
While in Charleston, Haley broke the story of Louis "Skip" Reville, a former principal who is accused of molesting countless children while working within the school districts of the Lowcountry. She also covered the story of Baby Veronica, only the second case in U.S. history to go before the Supreme Court involving the Indian Child Welfare Act, and she was one of the only reporters to be live in Washington, D.C. with details of the hearing.