Giuli Frendak - Hired at KOB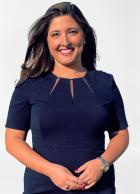 Reporter/Anchor
Giuli Frendak is the 5 pm Anchor at KOB in Albuquerque, NM.  She earned that title after only nine months of being a general assignment reporter.
Giuli has covered several stories that gained national and international attention since her time in Albuquerque.She was the first reporter on the scene of the deadly "Rust" shooting involving actor Alec Baldwin near Santa Fe, New Mexico. In the days following that incident, Giuli did on-air interviews about her coverage with news outlets from around the world. She appeared on BBC Breakfast and Access Hollywood. 
Giuli broke the story about a teen mother in Hobbs, New Mexico who was caught on surveillance camera throwing her newborn baby in a dumpster. Three dumpster divers found the baby alive hours later.
Giuli was part of a small team of reporters who provided extensive coverage of a deadly wrong-way crash in Santa Fe, New Mexico, that killed two first responders. KOB uncovered the fact that the suspect in the case lied about being kidnapped, and leading police on a chase. Giuli covered multiple aspects of the case for several days that aired across the country.  Giuli was also pivotal in KOB's coverage of a fierce start to the 2022 wildfire season in New Mexico. She traveled to Ruidoso, New Mexico hours after the deadly McBride fire broke out. Two people died in the fire, and it destroyed hundreds of homes. Giuli's footage from the fire aired across the country. 
Giuli's passion for TV news started at a young age when she co-hosted "Tamanend Today", her middle school's daily morning show. From there, her interest grew when she took broadcast and print journalism classes in high school. She followed her passion to college, where she majored in Journalism at Emerson College. She juggled hosting and sideline reporting for the college sports network, contributing to WEBN Boston, the college's television station, while also serving as captain on the Women's varsity volleyball team. She got her first taste of being a true Multimedia Journalist after her junior year, while she interned for Somerville Neighborhood News.
Giuli won two Emmys in 2022.  One for "Breaking or Spot News Single Reporter."  The other for a "Group Emmy for Continuing Coverage."
When Giuli isn't chasing breaking news or looking for the next big story, she loves to spend time outdoors with her dog she rescued in 2018, and keep her volleyball skills sharp on the sand. 
She is a firm believer in good vibes-- if you send them out into the universe, they'll come back around to you.