Elyssa Lassiter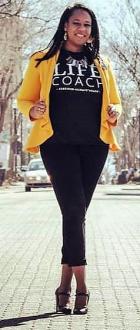 First Responder Correspondent
Elyssa Lassiter could be called the "Olivia Pope" of television news. A "Fixer" At a time when journalists and the rest of the world are struggling with work/life balance. Her extensive television background is the catalyst for "Say Life Personal Coaching".
Elyssa grew up in Vicksburg, Mississippi. She earned two bachelor's degrees from Southern University and A&M College at Baton Rouge, Louisiana in both Spanish and Mass Communications. She graduated at the top of her program and was the youngest to graduate in her entire class. Elyssa also earned a master's degree in Applied Communication from Mississippi College. She is currently obtaining her doctorate degree in Organizational Leadership from Columbia International University. She is also a communications professor to college students.
She is the creator and host of the lifestyle morning show "Say Life! TV on SKY4-TV. It's a program geared toward personal development and health and wellness. Elyssa is Lead Coach at Say Life! Personal Coaching, equipping people with the tools they need for confident speaking, and business--helping them move through the world in a positive light. She is grateful to have trained and certified hundreds of coaches in 6 countries and 35 states--and counting-- through The Say Life! Coach Institute, an International Coaching Federation approved program.
Before making this career jump, Elyssa spent a great deal of time in television news, starting as an intern at CNN Headline News in Atlanta, the moving to markets across the country as a reporter, photojournalist and producer in markets like Norfolk, VA,  Baton Rouge, LA and Dallas TX.
She loves working with her team of coaches and being a good steward of their gifts, as they help Say Life! family members (clients) get the results they want through various programs such as her entrepreneurial mindset track, Own Your Own™ and Own Your Own™ LIVE. She is a member of the Certified Coach Alliance (CCA) and a graduate of The Coach Training Academy. As a Certified Entrepreneur Mindset Coach, Elyssa has appeared in numerous publications and networks, including HGTV, NBC, CBS, ABC affiliates, and even graced the TEDx stage
When Elyssa isn't coaching, teaching, or contributing to TV shows and podcasts, she's most likely instructing Zumba® fitness or Hip Hop classes at the gym, playing flute with the church worship band, playing with her two German Shepherd Akitas--Happy and Serendipity, or taking a cat nap. She was honored to serve as her mom's caregiver before she passed away in 2019.