DeJonique Garrison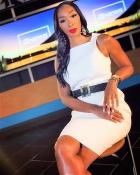 Anchor/Reporter
C'est la vie.  It's the motto stitched throughout the life of EMMY award winning journalist DeJonique Garrison.  Dej, as she is affectionately known, is a freelance journalist in Houston.  
DeJ graduated from Clark Atlanta University in 2011 with a Bachelor of Arts degree in communications. She'd go on to dabble in several roles with MTV and Bunim/Murray Productions on projects that included The Real World, Teen Wolf and Worst Cooks in America before landing at Delta Air Lines.
After two years of flying the friendly skies, DeJ decided to leave the Peach State for the Windy City…accepting a seat in Northerwestern University's Medill School of Journalism. She would go on to earn a Master of Science of Journalism in 2014. Her work on the west side streets, education boardrooms, and Capitol Hill hallways inspired a style of reporting where data and deep dives met at the intersection of humanity. 
DeJ freelanced for outlets including USA Today, Texas Tribune and Military Times before heading south to WFXG in Augusta, Georgia. There, she spent 2 and a half years as an MMJ.  In 2017, DeJ would go on to serve as an anchor/investigative reporter for KBMT/KJAC ABC in Beaumont, TX. After 8 months, she was promoted to the station's noon, 4, and 6:30pm main anchor, working tirelessly and keeping us informed with wall-to-wall coverage of Hurricane Delta and other big stories.DeJ agrees that her main role as a journalist is to tell the truth, advocating for equality and justice for ALL people, which is portrayed in her editorials.
Her authentic style of communication, along with a natural pulse check of current events across the community presented an opportunity for DeJ to create an afternoon lifestyle show titled "The Beat". After one year, the fresh perspective earned KJAC the top spot in ratings, regularly outperforming national shows including Dr. Phil. While the lifestyle show thrived, DeJ's command of the desk during breaking news and historic weather events would not go unnoticed. In 2020, she was promoted to the 5, 6, and 10pm anchor on KBMT ABC.
When she's not busy following the latest news, DeJ enjoys traveling, trying new recipes and exploring wellness practices to incorporate into her self-care routine.