Christel Bell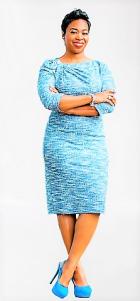 Christel Bell is the Main Anchor at WDAF Fox 4 in Kansas City. She is also earning her Masters in Media Communications at Webster University (St. Louis). She was most recently recognized by
Formidable Woman Magazine" as an outstanding woman in Media and Market place.  It is a dream come true for her to spend most of her time in the news business.  After all, she was practically raised in a newsroom. She fell in love with broadcast news as a child when she tagged along with her father, a custodian at FOX 26 in her hometown of Houston, TX. She got to see a lot behind the scenes. Christel really didn't realize at the time that it was a glimpse into her future purpose. But later, it would be revealed when the time came to plan for her future. Christel's vocal pipes extend beyond her abilities in news.  When Christel got to WDAF and they realized she was a singing sensation, they asked her to sing the jingle for their Christmas station promo and she humbly obliged.   You can also enjoy her music by going to her promo video on our page.
And while her father may have been her inspiration, she credits her 103-year old grandmother (who recently passed) with being her driving force to succeed. Christel remembers her grandparents as being some of the first African Americans in Louisiana to own a farm.  Christel earned her Bachelor of Arts in Communications from the University of Houston. After graduation, she began her career at KTRK 13 in Houston as a production assistant.  Since then, she has worn many hats in the newsroom. Producer, reporter, teleprompter operator, graphics designer, anchor, photographer, editor, and even sports anchor.  All of which earned her the honor of 4 p.m. anchor and later Morning Anchor at WMBF in Myrtle Beach, South Carolina. 
Christel enjoys a good story, whether telling it herself or hearing it. She believes having the passion to tell the story and having compassion to hear a person's story is what makes her a strong journalist. 
When tragedy struck her family, Christel found herself on the other side of the camera.  Her 10-year old nephew was killed in a high-speed collision.  She says the media coverage and beyond, allowed her to empathize with others she has reported on in the past.  Community service is important to Christel. She has won several awards for her outstanding work, including the South Carolina African American Heritage Foundation's 2017 "Preserving Our Places in History" Project Award.  Christel also earned the 2018 Zeta Phi Beta Sorority Phenomenal Women in our Community, Outstanding Communicator Award.  She has been recognized as a "Woman Making It Happen" by Top Ladies of Distinction and Delta Sigma Theta Sorority Incorporated and many schools, churches, and civic organizations. Christel dedicates her time to Special Olympics, South Carolina Heritage Foundation, and Each One Teach One.  She is also a dedicated member of the National Association of Black Journalists (NABJ) and Big Brothers Big Sisters. 
But perhaps nothing compares to her role as a wife and mother.