Chris Glover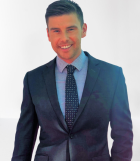 Anchor/Correspondent/Host
Chris has spent a lot of time in the US personally and professionally. Most recently, Chris reported from Washington, DC. at the White House for about a month, on stories such as the U.S Canada-Mexico Summit, The Kyle Rittenhouse Trial and the Three Amigos Summit.Chris Glover is an exceptional broadcaster and storyteller with more than a decade's experience in the TV and radio industry. He is currently a national reporter and anchor in Toronto for CBC News Investigates. Chris has always had a unique perspective. He was the award-winning theatre kid, who was also the MVP of his high school's rugby team. It's part of a dichotomous life that has given him the tools to insert himself into a lot of different social circles and earn people's trust. 
Upon graduation from Canada's top journalism school, Ryerson University, Chris was awarded the Joe Perlove award — an honor for the graduating student deemed to be the best journalist. He then landed a coveted internship program (Joan Donaldson Scholarship) with one of Canada's biggest broadcasters and the most watched news network, CBC News Network. He went from an intern booking guests, to the coverage producer tasked with assigning writers and leading story meetings, to outlining editorial priorities — in less than a year.
Chris got his first big break on camera in 2011, when CBC's bureau in Winnipeg (Canada's 7th largest city) needed help during an election. His six-week temporary placement turned into his first permanent full-time reporter job after just two weeks, when the managing editor told Chris he saw something special in his ability to get to the heart of any story they threw at him and present it with ease and confidence. 
By 2012, Chris was named CBC Winnipeg's political affairs reporter. He is the son of a political staffer (mom) and a political lawn-sign campaign chairman (dad), so politics has always been in his blood and his natural ability to understand and explain politics made this posting a natural fit. 
In 2016, on the eve of the next election, Chris was the co-anchor of the TV election special, breaking down the results and providing analysis. 
Chris moved to Toronto, the country's biggest city and news market, later that year and went on to win two regional RTDNA awards for in-depth reporting and online engagement for a series he spearheaded on housing affordability in Toronto. He later won a national RTDNA award for the project. 
In 2018, Chris anchored CBC Toronto's municipal election special, ditching the prompter to make it feel more organic, natural and fun. The vertical video, social-first broadcast was a success, pulling in an impressive audience and critical acclaim. The two-hour program was nominated for an RTDNA for best digital live special and it was a finalist for the 2019 Digital Publishing Awards for innovative storytelling. 
Chris thinks it's a privilege to be a TV, radio and digital storyteller and takes great pride in his pursuit to arm the public with information to help them navigate their lives.