Briana Whitney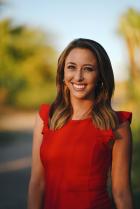 Investigative Reporter/Correspondent
Briana Whitney joined Arizona's Family in February 2018 and is loving the desert life and exploring all the amazing nature in State 48! Briana is a nightside reporter, turning stories for the 9 and 10 pm newscasts during the week. She's from Northern California, but prior to coming to Phoenix, she reported at KIII-TV in Corpus Christi, TX for three years.
Briana's reporting in Phoenix has won her three Emmy awards. Most notably, Briana helped break the story of Hacienda Healthcare where a woman in an incapacitated state was raped and gave birth, with nobody at the facility knowing she was pregnant. She continued to follow that story for over a year and uncovered other abuse cases, other malpractice, and her reporting led to a mass exodus of leadership positions and part of the facility to close.
Briana also spent months following a Glendale firefighter's cancer claim denial. She continued to ask the City questions about why the claim was denied when his type of cancer was covered under state law. Briana's reporting lead to the City overturning the denial, and the firefighter getting the help he needs for the rest of his life.
In the fall of 2019, Briana created a series on CBS 5 called True Crime Arizona, where she takes a deep dive into both unsolved and solved cases in Arizona, uncovering new evidence, exploring new theories, and talking to those involved in the criminal investigations. The series has been so popular on TV and online, that a True Crime Arizona podcast is in the works to be launched soon. 
During her time in South Texas, Briana reported on several national stories. Some of the most memorable was the 2015 Wimberley floods, reporting for eight hours off the Gulf of Mexico during Hurricane Harvey in August of 2017, and reporting from the church shooting in Sutherland Springs in November of 2017.
Her reporting in Texas won her two Associated Press awards, and an Emmy nomination for a half-hour special she wrote, produced, and hosted on the issue of child pornography.