Brenna Rose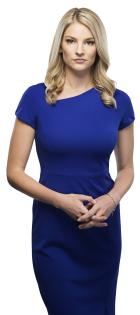 Brenna was named the Main Female Anchor and Special Projects Investigative Reporter for KTUL in Tulsa, OK.  She has, in less than a year brought up the ratings on the early evening shows 125%.  She has produced a five part series on Abortion in Oklahoma and a five part series of Women in the Criminal Justice Systerm in Oklahoma working with law makers to get equitcy for women in the system.  She's been nominated for her breaking news story on a pastor linked to abuse in Canada. 
Before getting tapped as the main anchor in Tulsa by Sinclair Corporate, she co-anchored the weekday morning news at the ABC Affiliate, KERO in Bakersfield. Brenna is one of the few Canadian journalists who has transitioned from Canada to the United States. She made the move after more than a decade working as a journalist across western Canada, in search of new challenges. 
Brenna has had the unique opportunity of covering the COVID-19 pandemic extensively in two different countries. She has a passion for finding and telling stories, ranging from investigative to features. Brenna thrives under pressure and feeds off the adrenaline of breaking news. 
Brenna's coverage of a police shooting earned her former station, CTV Calgary, an RTDNA in 2019 for breaking news. She displayed remarkable professionalism having been a few houses away when an armed suspect fired at a police officer and fled. Brenna and her cameraman were the only media in the locked-down area providing live coverage. Her investigative journalism work into allegations of discrimination within the Calgary Catholic School District led to a review by Alberta's Education Minister. She secured an exclusive interview with a teacher alleging she was forced out of the school district because of her sexual orientation.
One of the most challenging events Brenna has had to cover in her career was a crash involving a semi-truck and a bus carrying a team of young hockey players. Sixteen people were killed in the collision, and 13 people were injured. Brenna followed the recoveries of more than one of the players who survived, for more than a year, and earned a regional RTDNA award and was also nominated for a national award for her coverage. 
Her poise in front of a TV camera comes from her background as an international fashion model. Based out of New York City, Brenna traveled around the world to work with some of the top fashion designers. It was through this experience the young model's curiosity grew and she longed to tell the stories of the people she met through her travels. She stepped away from the fashion world, earning a Broadcast News Diploma from the Southern Institute of Technology in Calgary, Canada, and has never looked back.  
Brenna is fluent in English and French. She is very active, enjoys yoga, boxing and hiking.