Brenna Rose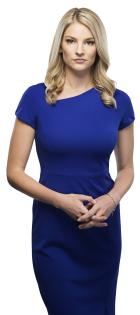 Brenna Rose is a reporter/anchor based in Calgary, Canada. She has a passion for finding and telling stories, ranging from investigative to features, and has been sent across Canada and to the United States to do so. Brenna thrives under pressure, and feeds off the adrenaline associated with breaking news. Her live coverage in the death of an Edmonton, Canada police officer, killed in the line of duty, helped her station earn a prestigious RTDNA award nomination for spot news. 
Brenna brings a natural, conversational style of anchoring to the news desk. She has anchored and produced a variety of different newscasts, from an hour long supper hour show, to a 3 and a half hour morning show. 
Her poise in front of a TV camera comes from her background as an international fashion model. Based out of New York City, Brenna traveled around the world to work with some of the top fashion designers. It was through this experience the young model's curiosity grew and she longed to tell the stories of the people she met through her travels. She stepped away from the fashion world, earning a Broadcast News Diploma from the Southern Institute of Technology in Calgary, Canada and has never looked back.  
Brenna is fluent in English and French. She is very active, enjoys yoga and hiking.