Brad Edwards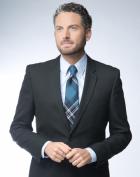 Main Anchor/Investigative Reporter
Brad Edwards is the main anchor, and an investigative reporter, at WBBM-TV / CBS Chicago, who just won a national Murrow.  When I was fortunate enough to see just one story from Brad Edwards, I knew he was someone that was uniquely talented and the awards would continue. He has the gift! He is a creative wordsmith, a captivating television presence and a compulsive digger. 
Upon his arrival at CBS Chicago in 2012, Brad immediately became the lead 10 pm reporter. Soon after, he was given his own franchise. He's now part of the much-lauded CBS 2 Investigative Unit. In March of 2019, he added Main Anchor to his title — co-anchoring the 5, 6 and 10 p.m. weekday newscasts.  
His 100+ awards include dozens of regional Emmy awards, a dozen regional Edward R. Murrow awards and the 2021 National Edward R. Murrow Award for Excellence in Writing. 
Brad was also selected by his colleagues to serve at the SAG-AFTRA Steward representing talent at CBS Chicago, he's also served as an Adjunct Professor at Columbia College of Chicago.