Asia Tabb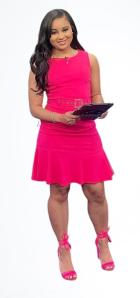 Reporter
Asia Tabb is a senior reporter and  fill-in Anchor for KTAL in Shreveport, LA.  She came to Shreveport from Harrisburg, PA as a Reporter/MMJ at WHP-TV. Her passion for broadcast news was born out of her real desire to serve others. Asia was born and raised in Norfolk, VA. She graduated from Old Dominion University where she majored in Communications with a minor in African American Studies. While at ODU, she hosted a campus radio podcast at WODU called "A&B Conversation", focusing on pop culture, hip hop, and R&B. Asia made a name for herself when she joined legendary radio host/producer, Doc Christian for her role on "The Gospel Express" on WHOV 88.1 FM and host and Producer for "Unrestricted Praise" at Praise FM. Heard around the Hampton Roads area and on the Internet Worldwide via iHeartRadio, she focused on positivity on youth and music.
Asia got her break in television news at KTVO in Ottumwa, IA. She credits her former Assistant News Director, Andy Grove, to have the patience to help her hone her writing skills as a budding journalist. Andy's sudden death in 2020 propelled Asia to dig even deeper to carry out Andy's dream for her and others like her. Asia vividly recalls while being at a news conference in Mt. Pleasant, IA covering former presidential candidate Pete Buttigieg, when she spotted a female reporter doing an interview wearing a red jacket, black pants, and black riding boots. Something in her soul made her realize that woman is already where Asia wants to be.
That woman was CNN political correspondent and Weekend Anchor Abby Phillip. While the 2020 Iowa caucuses were gearing up, Asia followed many candidates through their campaign trail from Senator Cory Booker, Congresswoman Tulsi Gabbard, and now the 46th President of the United States Joe Biden. Now, at WHP, Asia gets to further her radio skills of doing numerous live shots, interviewing anyone, from presidential candidates to Black Lives Matter advocates.
Asia admits that her childhood shyness is now giving a voice to the voiceless. Her media personality is like her alter-ego. Asia finds herself walking over to the quiet ones, asking questions, and getting the best interviews. She also knows the importance of getting both sides to a story and letting you judge. Asia is motivated by telling people's stories and getting results. She says "My motto is meeting people where they are and showing them that I care. Knowing that I'm talking to people that are usually ignored lets me know what I'm doing is important to someone."