April Woodard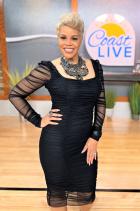 Entertainment Host
April Wilson Woodard is an Emmy Nominated Co-Host of Coast Live, a daily lifestyle show on WTKR in Norfolk, Virginia. She also serves as a Visiting Professor and Media Consultant at Norfolk State University, giving back to the same university where her father was the long-time president. April is also the aunt of Denver Broncos quarterback Russell Wilson. But perhaps she is most known as a correspondent on the nationally syndicated newsmagazine, Inside Edition for 15 years. 
April's body of work has been distributed on social media, broadcast, web, and other media platforms. She hosted the national US Senate Town Hall Debate with Senator Tim Cain and opponent Corey Stewart. On BET and BET International networks she hosted the shows, Conversation with President Obama, Music Around the Globe and covered The Oscars, NAACP Image Awards the BET Awards, BET Honors, and Black Girls Rock, among others.

April is the creator and producer of the web-based show, Conversations in Chaos and has contributed as an expert on MSNBC, HLN, CNN, and Fox News. Beyond the camera, April is a gifted writer who authors articles for various prestigious magazines and websites. April is highly committed to giving back to the community. She has been honored with The Trailblazer Award, The Urban League's Community Service Award, and The YWCA's Woman of Distinction Award. 
She is married to the Founder and Pastor of FavorNation Church, Adrian Woodard.They have two children Adrian II and Alek.