Anthony Hill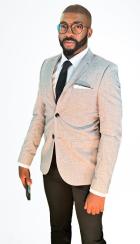 Bilingual Reporter/MMJ
Anthony Hill is a Bi-Lingual In-Depth Cultural Reporter at WFTS, ABC Action News in Tampa. Anthony takes a deep dive into the reality of Asian hate crimes, the mass shooting at Pulse Nightclub in Orlando 5 years later, the complicated history between Cuba and the U.S, and institutionalized racism against black farmers.  More recently, Anthony took a hard look at why a large number of black and latino men don't grauate college.  So, he spoke with NFL Hall of famer Emmitt Smith and former presidential candidate Julian Castro, who teamed up to raise the rate of minority men who complete higher education.  He also talked to death row imates exonerated for crimes they did not commit. 
He came to WFTS after spending time as a journalist in Santiago, Chile. As a native New Yorker, Anthony graduated from the State University of New York College in Oswego with a B.A. in Broadcast Journalism and Political Science. He traveled to Chile to work on hismaster's in International Studies. Anthony is the go-to journalist for all things Latin America. He understands the history, the politics, and the cultures of this part of the world, and it's reflected in his stories from Chile. He has covered a range of topics from societal issues, natural disasters, politics, and economics.
His first job in broadcast journalism was at WWLP-TV 22, the NBC affiliate in western Massachusetts. He remembers it well, "I got that job while on a study abroad program in Santiago, Chile. I still remember Skyping with my first news director while battling the shoddy Wi-Fi connection. As a journalist, I want to share people's realities with the world. I also care about social issues and shedding a light on topics such as immigration, poverty, economic mobility, and equality. I feel that these stories give people from around the world compassion and allows them to understand the experiences behind the headlines."
As a child, he was naturally curious, reading everything he could get his hands on and asking a lot of questions. Perhaps that is what lead to his interest in politics and history. He gravitated toward stories pertaining to society, politics, and economics. Anthony traveled to Europe spending time in France and Turkey studying international politics and economics. He spent time in Mexico and South America learning more about other cultures, learning Spanish and all the time asking questions and seeking answers. He has covered a range of topics from societal issues, natural disasters, politics, and economics. Anthony has a unique ability to do hard-hitting and, at times, complicated international stories with a dose of compassion.
Anthony says "I believe context and history are essential in telling stories. I want to update my audience with what's new, but I also feel the need to contextualize these events. That's our job as journalists; we're investigators, not just storytellers." Anthony is available immediately.
In his spare time, Anthony likes reading, photography, discovering places of local history, and paragliding.