Ann Pierret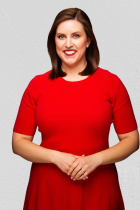 Investigative Reporter
Ann Pierret is an Investigative Reporter at KRQE in Albuequerque.  She recently made the move to New Mexico from WJRT in Flint, MI.  Ann recently received 4 Emmy nominations for stories she did in Flint before coming to KRQE.  They include Continuing Coverage, Crime, Politics/Government  and Societal Concerns.  As member of IRE,  she won numerous awards for her in-depth story coverage, including 3 Michigan Association of Broadcasting awards and an Edward R. Murrow regional award for feature reporting.
Her friends used to tease her for going on and on about a story, not leaving out any details. Now, she is making it a point to leave out NOTHING, because you deserve it. Ann grew up in Arlington, TX., and was inspired by Texas native and sports legend, John Rhadigan, whose motto was to show up, witness history, and tell stories. But perhaps her strongest influence came out of tragedy. Her friend, who was a kind, compassionate, and, charismatic broadcast journalism major.  She was murdered while Ann was in high school.  Ann felt compelled to finish her friend's journey.  In Ann's words, "I've always had the belief God takes the best ones early because they're ready -- the rest of us are now tasked with living up to their example. And I'm able to be more empathetic with the countless victims' families I speak with because I've been there".
Ann went to Fordham University in the Bronx, NY where she was an Edward A. Walsh scholar. She graduated with a Bachelor of Arts in Communication & Media Studies in TV/Radio, a minor in Theology, and an honors concentration in American Catholic Studies. She is also a graduate of Poynter's TV Power Reporting Academy. Ann studied abroad in Sydney, Australia through Boston University, interning at The Checkout through the Australian Broadcasting Corporation. Ann started her career as a production intern for CBS This Morning in New York. 
Ann quickly learned the power of journalism first-hand while working in Lansing, covering the beginning of Flint's water crisis. She saw the way she and her colleagues were able to shine a light on a hidden injustice, giving a voice to those who were easily overlooked. She then knew she needed to see the crisis through, in the Flint TV market. In covering the crime and investigative beats, she's always speaking to citizens impacted by the crisis or following the dozens of criminal charges and civil suits tied to its fall-out. She's shared the heartache of families who've lost loved ones to gun violence, like the young son of a security guard shot and killed after asking a customer to put on a mask during the COVID-19 pandemic. She's also covered high-profile police investigations, like the arrest and trial of an accused cannibal.
Ann has even exposed previously unknown crimes. Ann learned that a school failed to report a teacher's inappropriate behavior with a student, sparking a criminal investigation. Her discovery of a Mid-Michigan Sheriff's Department's failure to properly investigate a deadly crash prompted the Attorney General's Office to get involved in the case.
That's why Ann Pierret tells stories -- to bring people the truth they deserve, and to make a positive impact in her community. It's a passion she's had her whole life, and one she will take with her wherever she goes.