Alli Joseph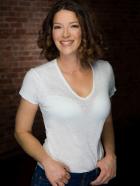 Host/Correspondent/Producer
Alli Joseph is a seasoned multi-media journalist, public speaker, documentary filmmaker, branding expert and family historian. A [sic] Native New Yorker, she is a member of the Shinnecock Indian Nation and also of Black, West Indian, and white European heritage. As a writer, producer, educator, and on-camera talent, Alli carries her late mother's matrilineal indigenous storytelling traditions for her children and her documentary subjects. Alli is a contributing editor, senior producer and on-camera host for Salon.com, and has worked for large media companies as correspondent and producer - among them NBC, CBS News, Vh1 and the Food Network, People Magazine. Alli has also worked on branded campaigns and early digital advertising at the advertising agencies Grey and Ogilvy. A McCormick Tribute Foundation Fellow in Executive Media Management, a Poynter Institute Fellow and consulting faculty member of the Maynard Institute for Journalism Education, Alli sat on the board of the Radio and Television Digital News Association (RTDNA) representing Native American Journalists as ex-officio for the Native American Journalists Association (NAJA).  Alli teaches and programs primary school to post-graduate entrepreneurial journalism courses for journalists of color, and is a frequent mentor to younger Black and Native American media and journalism students and mid-career individuals, most recently partnering with the International Women's Media Foundation as one of their 2019-20 Gwen Ifill program mentors. She is active in advocating for minority journalists' entrepreneurship and career development and co-directed a Ford Foundation-sponsored start-up media business program called "NewU" for five years.  She wrote the curriculum for NewU and gave lectures on diversity and cultural initiatives and personal branding. 
Alli has produced or covered stories around presidential primaries, other indigenous issues, political conventions, the Sundance Film Festival, the Oscars, journalism and diversity summits, as well as many other national and international events.  
Alli produced the 2019 PBS documentary CONSCIENCE POINT (Independent Lens, November 2019) about her Shinnecock tribe's fight as indigenous peoples to save their land and traditional burial grounds from destruction and development, and always uses the nuances found in human stories to strike a tone.  She remains active within the sphere of minority journalism associations, speaks Spanish, and is a member of NAJA.  Alli is passionate about giving a voice to the voiceless, and in these complicated times can often be found fostering, engaging in, and furthering positive conversations about the state of race, racism, and multicultural identity in America. A graduate of Vassar College, Alli lives with her husband, children, and self-trained therapy dog Tess in New Jersey.