Alexandria Washington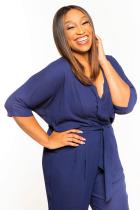 Reporter
Ally Washington, aka Ally Lynn, is a multi-talented MMJ, TV Lifestyles Reporter, and award-winning radio personality packed with fun, flair & sass!  She refers to herself as a broadcaster by trade but an educator at heart, motivating and supporting students to achieve their highest goals. Ally is a Freelance Entertainment Reporter for both FOX46 Charlotte and FOX5 Atlanta. While waiting for her full- time journalistic opportunity, she is a teacher at Lighthouse Charter Academy in Jacksonville, AR.
Her father's military career took her all over the world, developing a love for listening to other people's stories. It made her realize that your story is all you have. Growing up as an Arkansas native, Ally graduated from North Pulaski High School and went on to earn her bachelor's degree from the University of Alabama.
Ally got her start while in college at 90.7 The Capstone, a student-run college station in Tuscaloosa. Upon graduation, she was hired in both local news FOX 16 and THV 11, as a social media reporter. Soon after, she secured an on-air position with STREETZ 101.1 in Littlerock, AR.  A few months later, she was recruited to the line-up of Cumulus' Power 92 Jams - where her show became the #1 rated urban weekend show in the market.
In 2016, she took her talents to Hollywood as a highly sought-after reporter for TMZ- where she appeared regularly on weekdays on both TMZ TV and TMZ Live. After a year on the West Coast, she came back to her first love - radio, at 95.7 Jamz in Birmingham, AL.
Shortly after, she was recruited to join Radio One where she took PM drive in Charlotte, NC, and was promoted after seven months to earn the title of "Daytime Queen" in Detroit, MI during the middays.  Ally is the founder of an educational mentorship program called The Busy Bees Foundation, to where she raises funds and awareness for the lifelong impact of illiteracy in minority communities.  She also serves as Youth Director for Evangelistic Ministries Church and sits on the Chick Fil A FCA Board as a Director of Social Media.
In her spare time, you can catch her taping her podcast, scrolling on social media, or being a mom to her poodle puppy, Motown.